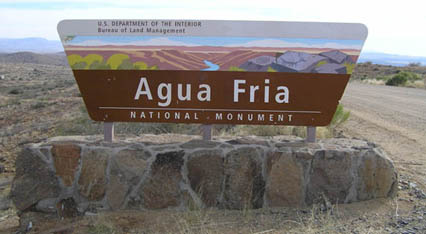 Sign at the Bloody Basin Road entrance to the Monument
The Agua Fria National Monument is located about forty miles north of Phoenix, along the east side of Interstate 17. Created by proclamation of President Bill Clinton on January 11, 2000, the Monument contains 71,100 acres (111 square miles) and more than 450 archeological sites, most of which are located along the perimeters of Black Mesa and Perry Mesa. Black Mesa is visible from the Sunset Point rest stop along I-17, and the best access is from the Bloody Basin Road exit, where you will find an unmanned information kiosk with maps and information. The Monument is currently managed by the U.S. Department of Interior Bureau of Land Management (BLM).
The pueblos here were constructed using a technique known as "massed room block," in which field-stone walls stabilized with mud mortar were roofed over with timbers, sticks, mud and straw. The roofs have long since disappeared, however, and time, weather, and modern-day looters have reduced most of the walls to piles of rubble. They are still quite impressive: some of the sites contain over one hundred rooms, and are surrounded by a multicolored carpet of broken pot sherds. Many of the ruins have clusters of petroglyphs nearby, some of which contain thousands of images. There is also evidence of extensive agriculture over large areas of both mesas, including cleared fields and terraces and berms for controlling rain runoff for crop irrigation.
The BLM finds itself in a dilemma concerning management of the Monument. With few personnel to monitor such a large area, revealing the locations of individual ruins exposes them to looting and vandalism. For the time being they have compromised by making one particular site--Pueblo La Plata--the sacrificial lamb, publishing its location on their maps and maintaining (sort of--you'll need a high-clearance vehicle) an access road. You're on your own for the other sites.
Major Sites
The following is a list of the major ruin complexes in the Monument. The names, of course, were coined by modern-day archeologists: we have no idea what the original inhabitants called them.
Major Pueblos/Complexes -- Agua Fria National Monument
Perry Mesa
Pueblo La Plata
120-160 rooms
Baby Canyon Group
100 rooms
Pueblo Pato/Perry Tank Group
300 rooms
Lousy Canyon Group
68-80 rooms
Hackberry Wash/Rosalie Mine
130 rooms
Brooklyn Group
300 rooms
Squaw Creek Group
150-200 rooms
Black Mesa
Badger Spring Ruin
30-50 rooms
Richinbar Mine Ruin
30-50 rooms
Black Canyon Fort
12 rooms
Details of Individual Sites
Photographs and descriptions of several of the major sites within the Agua Fria National Monument are provided below. Click on a thumbnail to follow the link. More sites will be added from time to time, so check back frequently.

Pueblo La Plata
This large ruin is the most easily accessible in the Monument. It's location is publicized by the BLM (see map link below).

Squaw Creek Pueblo
One of the few ruins on the Monument with a defensive perimeter wall.
In recent years this site has been renamed "Pueblo de los Mujeres" (Spanish for "Pueblo of the Woman").

Baby Canyon Group
This ruin sits on a small hilltop that is protected on three sides by steep canyon walls.

Pueblo Pato
Pueblo Pato, also known as the Perry Tank Group, was named for a nearby petroglyph of a duck.

Petroglyphs
Many of the ruins have large petroglyph sites nearby. The images shown here are all located near the Brooklyn Basin ruin group.

Map of the Agua Fria National Monument
A map of the monument, showing the location of Pueblo La Plata
Other Links
The following links may be of interest to anyone visiting the Agua Fria National Monument:

Friends of the Agua Fria National Monument
A volunteer organization that assists the BLM in monitoring and maintaining the monument. They also occasionally assist in archeological surveys and other research.