The purpose of this website is to document some of the lesser-known prehistoric archaeological sites throughout Arizona.
Many of the most spectacular Native American ruins in the state are operated as tourist attractions, with parking lots, sidewalks, guardrails, descriptive signs, and tour guides or Park Rangers keeping an eye on things. Although some of these are included here, the primary emphasis is on unknown or unpublicized sites located in National Forests, State Trust land, and other remote places. Generally these are not as large or impressive as the public sites, and many have been severely damaged by looters and careless hikers. But as a general rule, the harder a site is to get to the better its condition will be, and there exist some pretty spectacular ruins in the dark recessed of Arizona's wilderness areas
The map below shows the general location of the ruins covered in this website. Mouse over a marker for a brief description. Click on a marker to follow the link.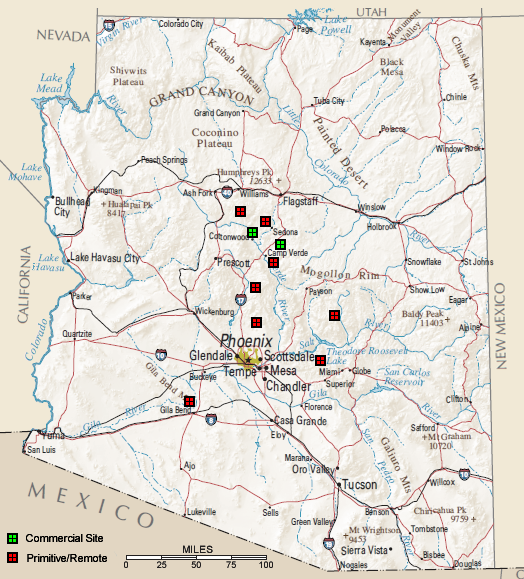 Map of Arizona Archaeological Sites
Links to sites and site groups
Click on a thumbnail to go to the page. Sites with a red title require hiking. Sites with a green title are accessible by passenger car and generally require a fee.

1. Sycamore Canyon Wilderness
A multi-room Sinagua cliff dwelling, and a nearby panel of pictographs.

3. Tuzigoot, Hatalacva and Bridgeport Pueblos
Three large pueblos on the upper Verde River. Tuzigoot is an easily accessible National Monument, operated by the National Park Service.

5. Agua Fria National Monument
Arrayed across the tops of Black Mesa and Perry Mesa are ten major pueblos and hundreds of smaller ruins.

6. Hill Forts of the Tonto National Forest
A string of four hill-top fortifications north of Phoenix.

7. Sierra Anch National Wilderness
The canyons of the Sierra Anchas contain multiple large cliff dwellings--and some of the most rugged terrain in Arizona.

10. Mindeleff Cavates Lodge Group
A group of 89 cave dwellings, hand carved in a layer of sandstone on the banks of the Verde River (added Nov 2012)
Videos
This section contains YouTube videos of some of our ruin-hunting expeditions.

A pictograph site near Sedona, Arizona.
Exploration of an ancient pictograph site in the Secret Mountain Wilderness near Sedona, Arizona. Filmed in April, 2013. 7 min 2 sec.

Sinagua Cliff Dwellings near Sedona, Arizona.
A search for ancient cliff dwellings in the Secret Mountain Wilderness near Sedona, Arizona. Filmed in May, 2013. 14 min 37 sec.
Articles
Locations of Ruins
Archaeological sites are fragile, irreplaceable, and occasionally contain objects of great value. For these reasons the precise locations of ruins will not be disclosed. On the other hand, if anyone wants to pass along the locations of their favorite archaeological sites, we would be happy to include them on the ArizonaRuins website.